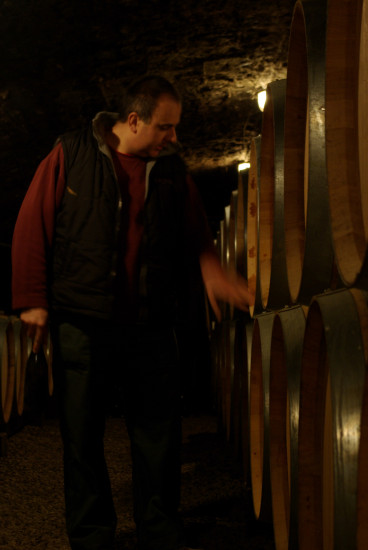 The Vieux Collège estate is a family run vineyard for 7th generations. In the year 2006, Eric Guyard took over the reins of the business, upholding the traditions of quality and expression of terroir. The surfaces extends over 25 hectares through the village of Marsannay, Fixin and Gevrey Chambertin.

Eric Guyard, a passionate
Following his 4 years study at the Lycée Viticole from Beaune, Eric Guyard incorporated the estate beside his father sharing together experiences, mutual learning, cooperative work. He previously worked for 12 years with his parents to get the technical and knowhow which makes the domain successful. Thanks to his passion for the vines and the terroir, he naturaly converts to organic farming.

Constantly evoluting
Between 1993 and now the estate hasn't stop growing, going from 13 hectares to 25 hectares. Over the year Eric Guyard has the opportunity to rent or buy new parcels that makes the estate stretches. The buildings were reorganised to respond to the need of this extended project. The main building is dedicated to winemaking and maturing wines, a second one is used as storage and orders picking while the third is used as a materials storage.
Land parcels is well cared by replanting grape each year in replacement of the dead one or simply to renew plants. This allow us to plant new variety of Pinot or Chardonnay to ensure the best quality of wine.

Burgundy's classic varietals
Thanks to our geographical location in Marsannay, the only appellation Village which produces wines from all three colours. We grow the pinot noir for our red wines and rosé, chardonnay and aligoté for the white.


working the vine with respect of the natural environment
Eric keep an eye on grapes and when they have reached their optimal maturity, he gives the start for harvesting, all plots are done manually. The perfect ripeness of grapes is the guarantee of the quality of all the great Burgundy wine. We prefer to work the soil mechanically and we exclude any chemical fertilisers, herbicides, insecticides and synthetic chemical products in order to preserve the biodiversity. The domain is certified organic farming by Ecocert since the year 2014. In the respect for the expression of the unique terroirs of Burgundy and to illustrate their diversity Eric products several differents vintages to suit select parcels of land.